Are you planning to redesign or freshly start your blog for this Christmas? In this blog, you will find the best free Christmas blogger templates to build your fantastic site with less effort. These themes give you a notable look and attract your viewers to boost the spirit of the festive season.
Let's get started with such easy-to-use and attractive templates.
1. X-Mas Template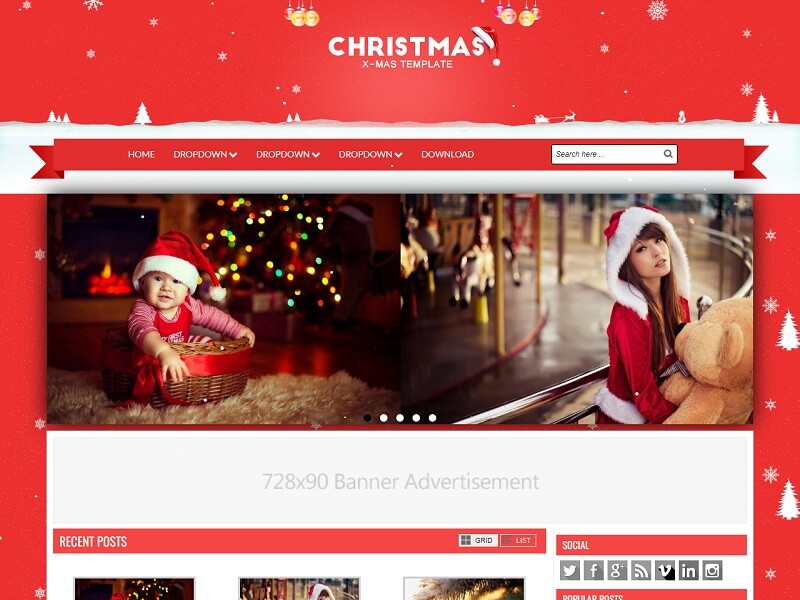 X-Mas template comes with a red background, designed especially for Christmas. This theme is Ads ready and also search engine friendly. The template has unique features for showcasing photography and more. X-mas theme is a responsive theme, which can help your viewers view the site on any device. It includes features such as a drop-down menu, social bookmark ready, right-sidebar, post thumbnails, etc.
2. Christmas Gifts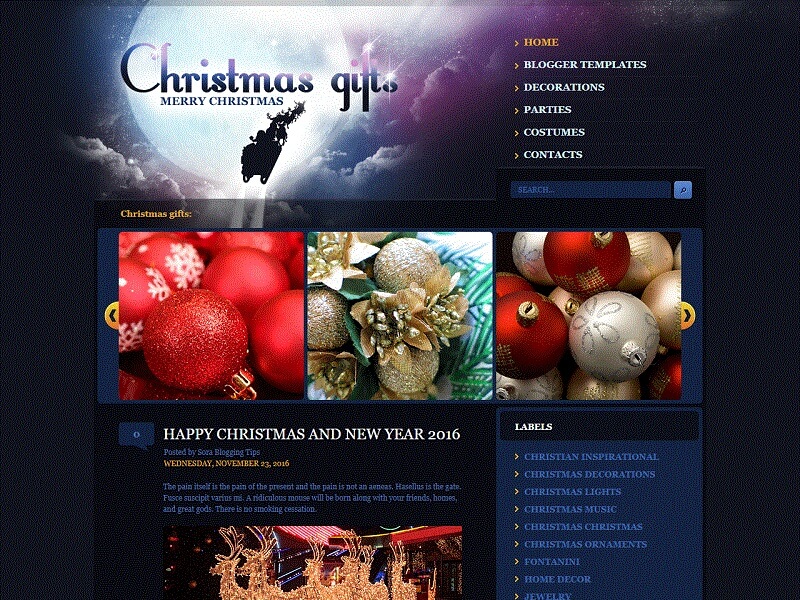 Christmas Gifts is an elegant blogger template. It helps to show the gallery, information, offers, and labels in an easy way. This theme comprises a vertical drop-down menu, fixed-width, and adapted from WordPress. You can present the Christmas gift ideas with an attractive gallery feature. Attract your viewers with the quality presentation of blogs on your site.
3. Krismas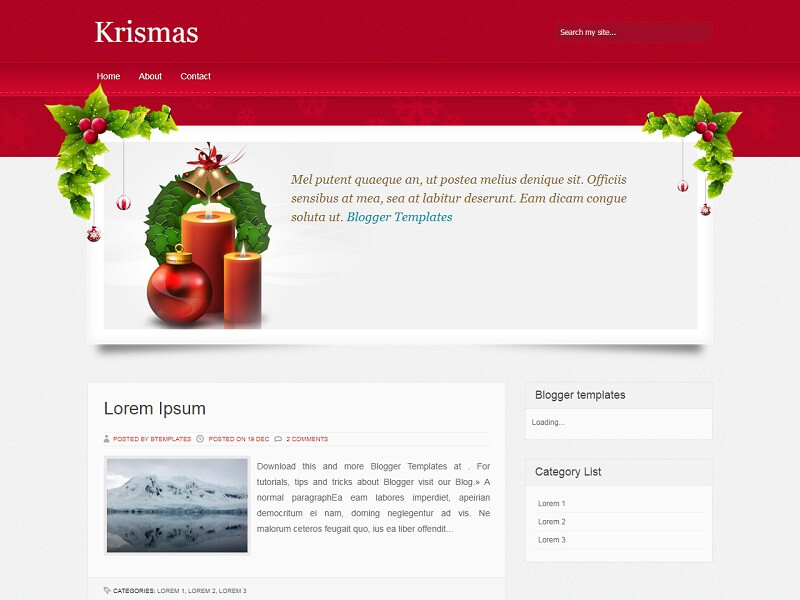 Krismas is one of the clean and simple-looking free Christmas blogger templates. It helps in creating an inviting blog for any festive season. The theme comes with the features such as grey and white colors, a drop-down menu, right-sidebar and is adapted from WordPress. So, use Krismas and make stunning designs with various graphic options.
4. ChristmasPress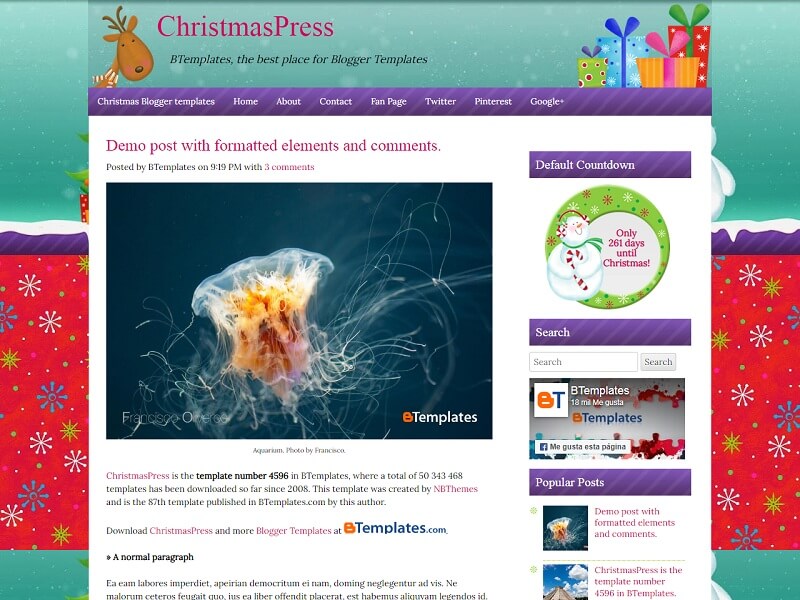 ChristmasPress is a free blogger template, specially designed for Christmas, people, festive seasons, or fantasy blogs. It is adapted from WordPress and comes with various features such as background patterns, posts thumbnails, right sidebar, and more. It enhances the overall look of your blog with a unique view. Choose this theme to create any fantastic Christmas blog or festive activities.
5. Merry Christmas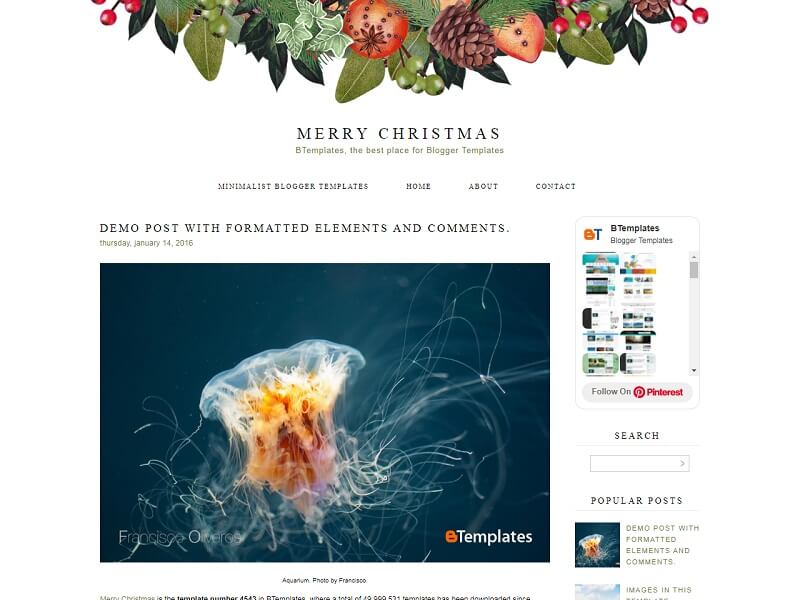 As the name suggests, Merry Christmas is a free blogger theme, designed for Christmas-related blogs. This excellent template contains the features such as SEO-friendly, floral motifs, minimalists, neutral colors, a right-sidebar, and an exclusive design. The Merry Christmas template is also suitable for the portfolio, home, decoration, photography, crafts, etc. If you are looking for a versatile theme design, this theme is suitable for you.
6. Xmas Day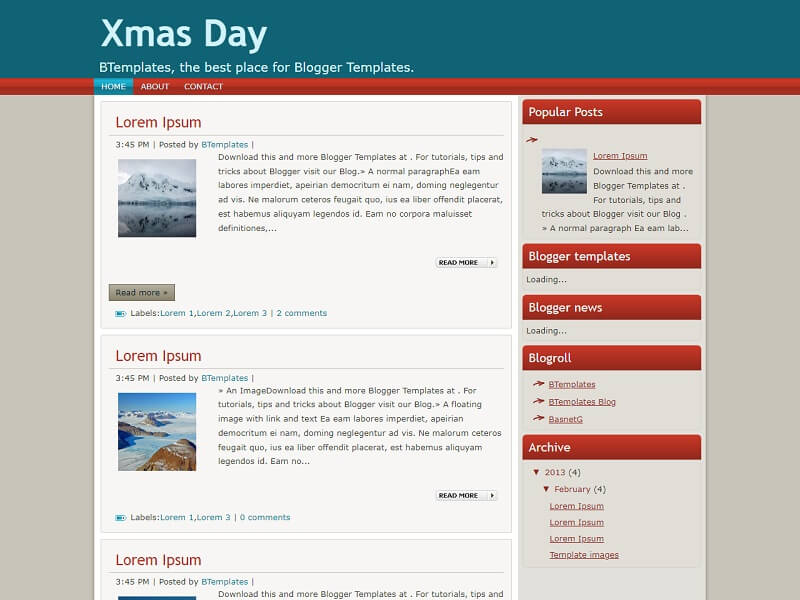 Xmas Day is a simple and clean-looking blogger theme. It gives clean look to your blog and showcases your content in a less complicated and much easiest way. This theme provides the features like Posts Thumbnails, right-sidebar, exclusive design, and more. If you are looking for a blog theme related to Christmas, Xmas day is the suitable one.
7. Christmas Fun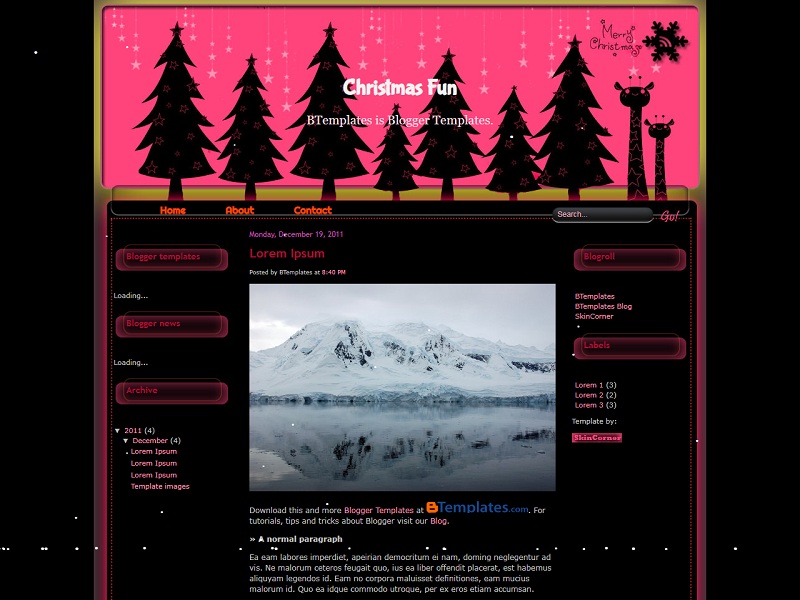 Christmas Fun is an elegant theme for the holiday season. The theme is suited for any Christmas-related blogs, photos, or entertainment purposes.
This theme contains the features such as the left and right sidebar, 3 columns, round corners, an exclusive design, etc. It gives enriching Christmas feelings for the festive season. Create your stunning blog website with this simple yet beautiful free blogger theme.
8. It's Christmas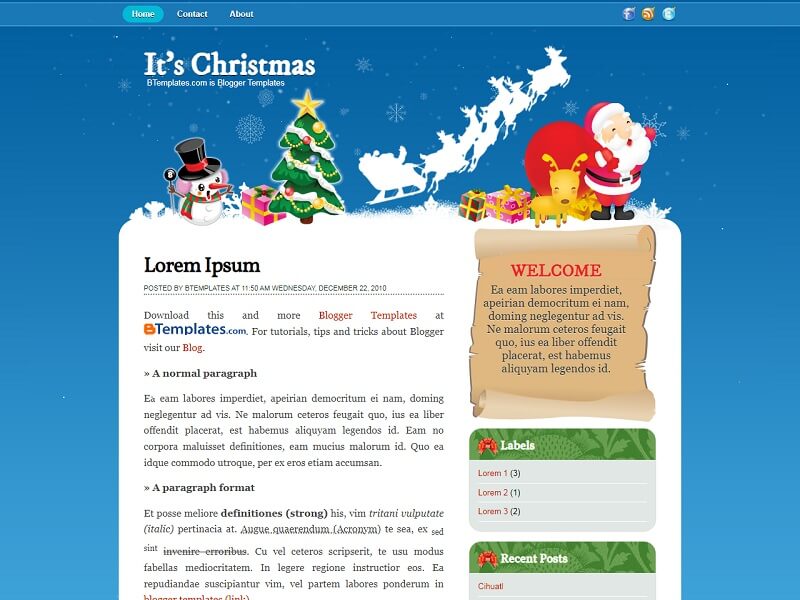 It's Christmas is a blogger template designed for a Christmas blog. It helps to create a blog in no time. This theme contains outstanding features like- 2 columns, a right-sidebar, rounded corners, etc. One can build a Christmas-related blog and excellently showcase the content. So, If you are looking for an elegant and minimalist design, this theme is suitable for you.
9. XMas Crowd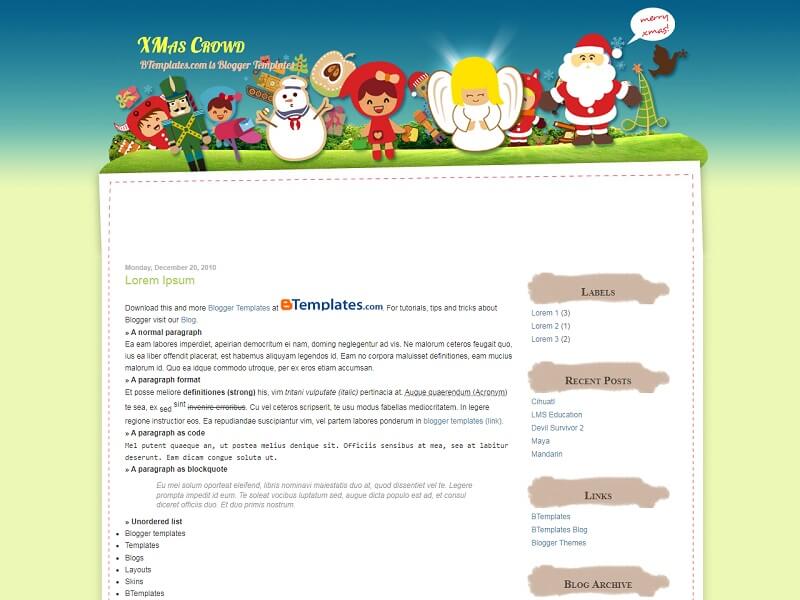 Xmas Crowd is a free blogger theme. It is mainly suitable for Christmas and kids-related blogs. A stunning design of the theme helps to get more visitors to your blog. Xmas Crowd comes with features such as 2 columns and a right sidebar. This theme is excellent for creating a Christmas blog without technical knowledge and fewer efforts.
10. Elegant Christmas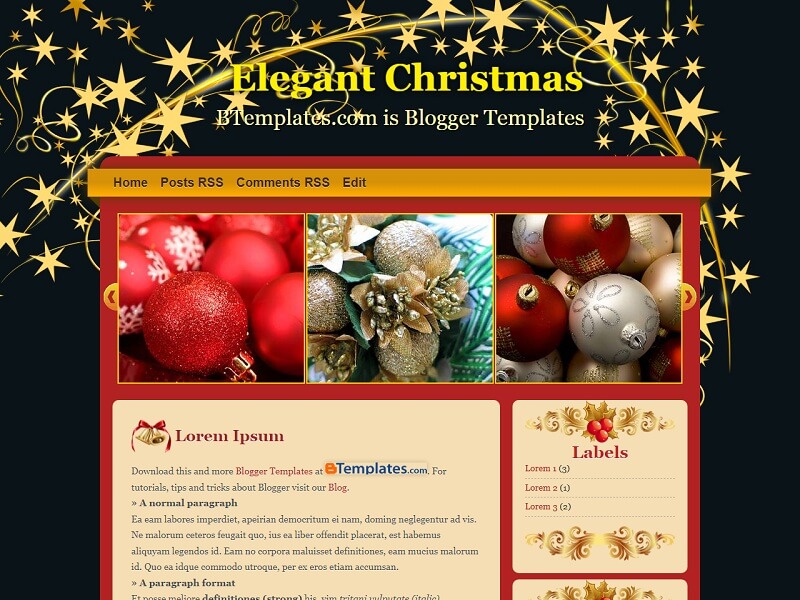 Elegant Christmas is a blogger theme suitable for Christmas blogs. It fulfills the requirements for the blog with its stunning designs and features. You can show links, recent posts, blog archives, and labels and enhance the overall look of your blog. Also, its red and black background gives a special look to your festive season blog.
CONCLUSION
Finding a suitable theme for the blog becomes complex if you have so many options. But if you have a selected variety of themes, you can easily find the one which is perfect for you. Here, we have gathered such blogger themes which are specially for Christmas. Revamp your blog with these stunning free Christmas blogger templates and make it inviting. A variety of features and graphics themes make the Christmas blog more appealing to the users. Choose the one that is right for you and motivates you to put more content for your users.