If you wish to publish your content online, blogging is the best way. A Blog can help you communicate with your audience in a meaningful way. If you are unsure of how to select the Best Free Blogging Platforms, no worries, we have selected the most popular and versatile blogging platforms for you.
If you are a beginner, choose the one which is easy to set up and flexible. Showcase your writing to millions of people and get noticed through these commendable platforms.
1. Medium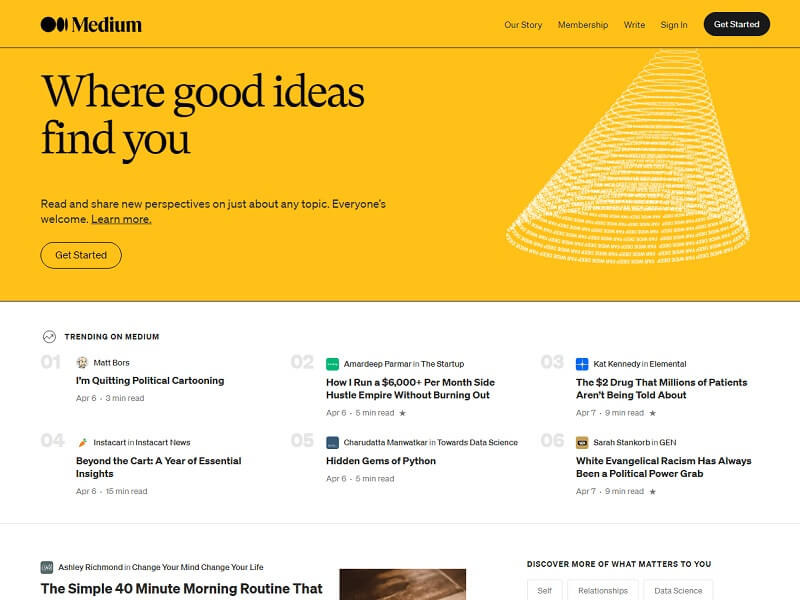 Medium is one of the Best Free Blogging Platforms. It already has a built-in audience who needs to pay a membership fee to read the articles. Hence as a writer, you will get a large audience to showcase your writing skills.
You do not have to build a site, hosting, and maintenance with Medium. And therefore no need to focus on the designing part. You can share your stories and articles with a large audience. A clean white space is a perfect traditional blogging layout to start writing and expressing your thoughts.
Medium's Partner program distributes money to the writers based on reading time. This platform allows you to connect with people of similar interests, share your posts on social media.
The drawback is that you do not have control over designing and customizing your blog. You can't run your ads to make money.
2. WordPress.org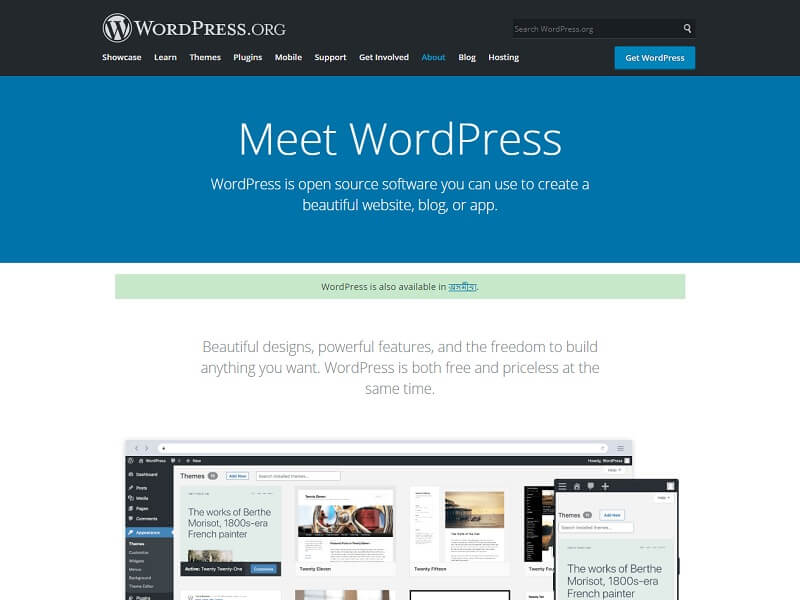 WordPress.org is one of the most popular blogging platforms worldwide. It provides powerful features with limitless possibilities. On this platform, you can create amazing personal blogs, any corporate or news, business sites in no time.
You will need a domain name and web hosting to start your blog or website. WordPress comes with features such as easy to set up, High security, SEO friendly, Responsive mobile sites, and customizable designs with high performance. There are thousands of themes available to create beautiful websites.
You can add features like mailing lists, galleries, forums, and analytics. With over 55000 plugins, WordPress helps you to meet your requirements. This platform allows you to build and customize any type of site with ease.
3. Blogger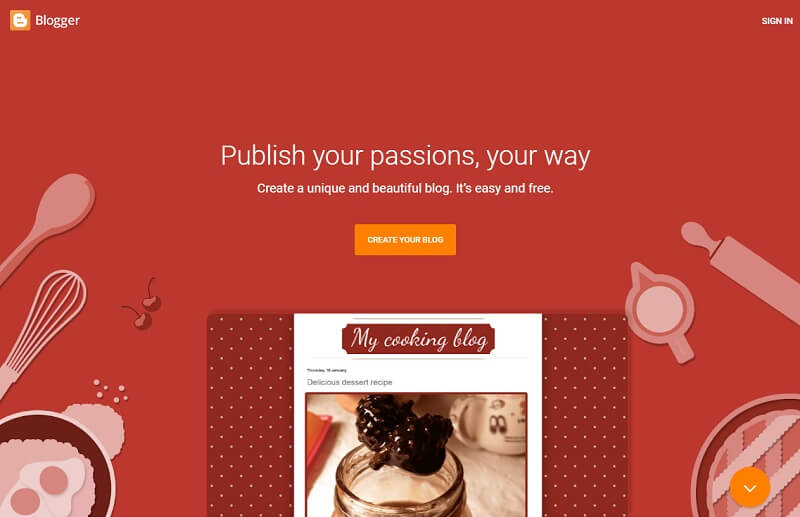 Blogger is a popular blogging platform provided by Google. If you want to create your blog quickly and easily, this is a perfect platform for you. By simply creating a Google account, you can start your blog.
Blogger is free and easy to use without any technical skills. It is integrated with Google Analytics. By connecting the blog with Google Analytics, you can get a detailed analysis of your blog. Though it has limited features, you can customize your site with amazing themes. It contains flexible layouts and hundreds of background images.
You can create a beautiful blog by using all these features. You get a free blogspot.com domain or can buy a custom domain for your blog. Also, it is easy to monetize your blog by using Google AdSense. If you want to create a traditional blog for a cause, this is the best option for you.
4. Wix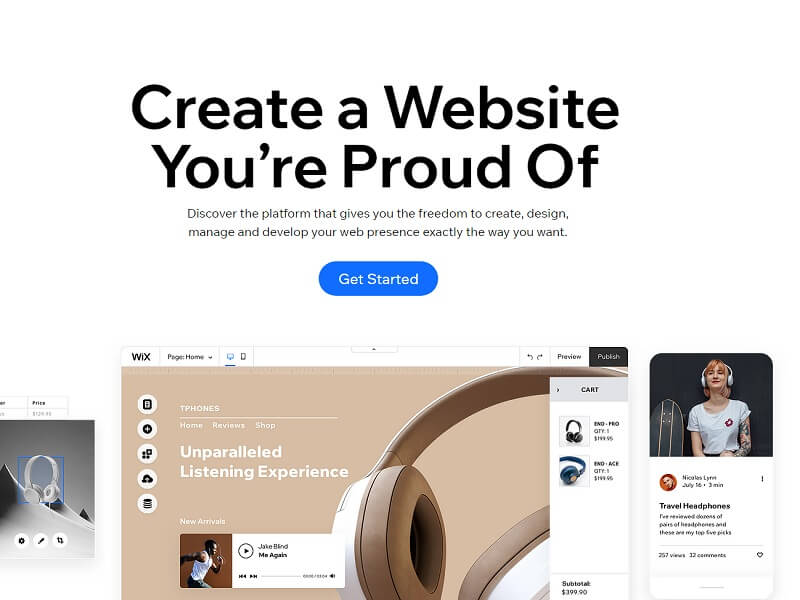 Wix is one of the Best Free Blogging Platforms to start your Blog. With Wix, you can create beautiful websites, personal blogs, online stores, photography, design sites and showcase your work. There are 500+ professionally designed template options available to meet your needs. You can customize and add features to your blog.
Wix also helps to support your entire site, book appointments, post jobs, live chat, etc. You can use video backgrounds, scroll effects, and animation. With Wix, you can optimize your site for search engines. You can grow your audience and expand your reach with powerful SEO tools, visitor analytics, and social media tools.
Wix is easy to set up using drag and drop options. You do not need coding knowledge. With a free Wix account, you can get a subdomain. However, you can get a paid custom domain if you want. The downside is that once you choose the theme, you cannot change it.
If you want to create your blog in a simple way, Wix is a fantastic option.
5. Weebly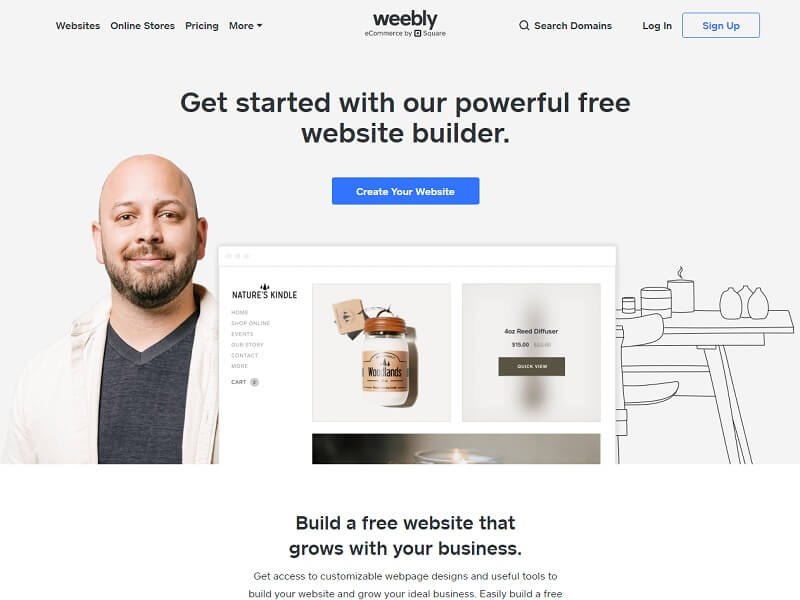 Weebly is a free website building platform to build a professional website. It gives you attractive and responsive designs to create design sites, online stores, and blogs. It is easy to use and comes with the apps and features that help you grow your website.
Weebly comes with simple and stylish templates. It has all the basic elements like text boxes, images, feeds, forums, and surveys. Weebly contains great editing tools for managing pages and changing names such as the site's name and category.
This platform is useful for small businesses. It gives more selling opportunities. And helps to get discovered and grow your customer base.