Are you looking for an E-commerce website? If yes, then find the best theme that suits your business with our handpicked Free BigCommerce Themes. When you are eager to promote your services and products and scale up the business, e-commerce websites are the best decision.
Having an online store gives you the freedom of creativity and design. It opens up doors for more selling opportunities and growth for your business. You can use a variety of handful tools and templates that creates a great impact on users.
Here is the list of very flexible and budget-friendly themes that will surely make an outstanding online presence for your store!
1. Vault Bright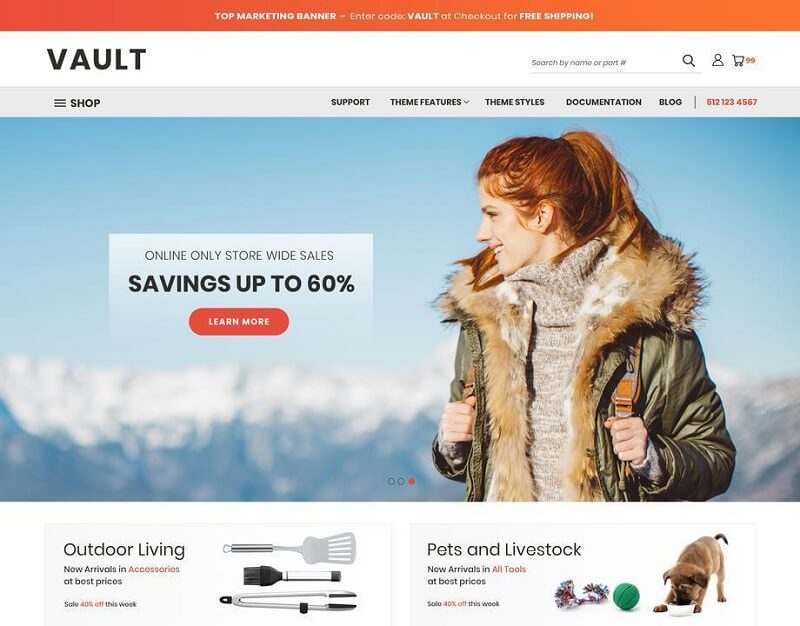 Vault Bright is a flexible and clean theme that provides design capabilities and facilitates more customization options. Without coding, you can add the images and text banner to your home page.
It has a variety of fonts, a clear layout, and color options that provide a better readability experience to the visitors. This theme comes with a built-in mega menu and perfectly makes the large and small catalogs.
One can change the logo, add a banner, contact information, etc. to the website. Create an interesting and attractive online store to invite more visitors with this free quality theme.
2. Roots Original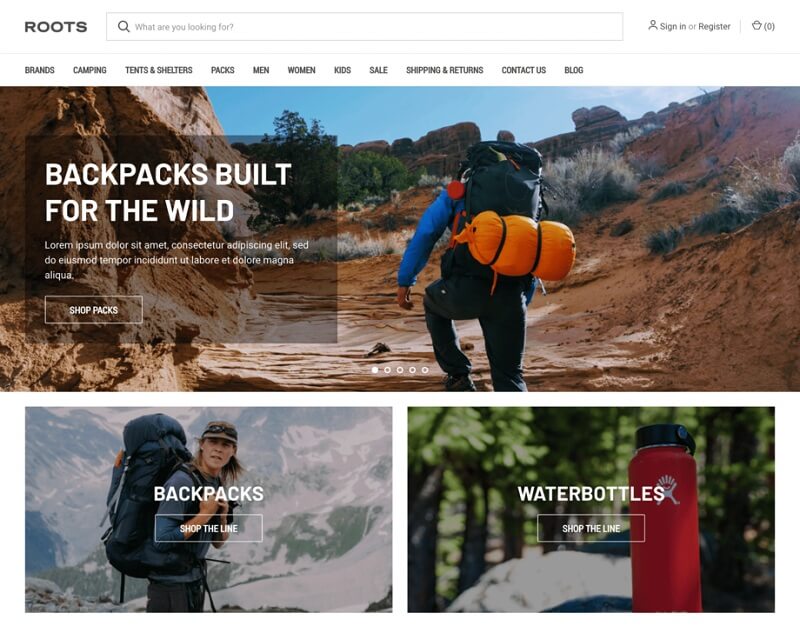 Roots Original is a clean and image-focused free theme, suitable for a wide variety of businesses. It helps to create an online store that is decent and professional-looking.
This theme focuses on search and navigation systems and supports medium to large-sized product catalogs. The theme brings attractive features such as a front-page slideshow, sticky header, product comparison table, quick add to cart, mega navigation, product filtering, and much more.
It is fully responsive and optimized for sales & discounts, large catalog, mobile, tablet, and desktop. If you want a powerful theme that emphasizes search and navigation, this is the perfect theme.
3. LifeStyle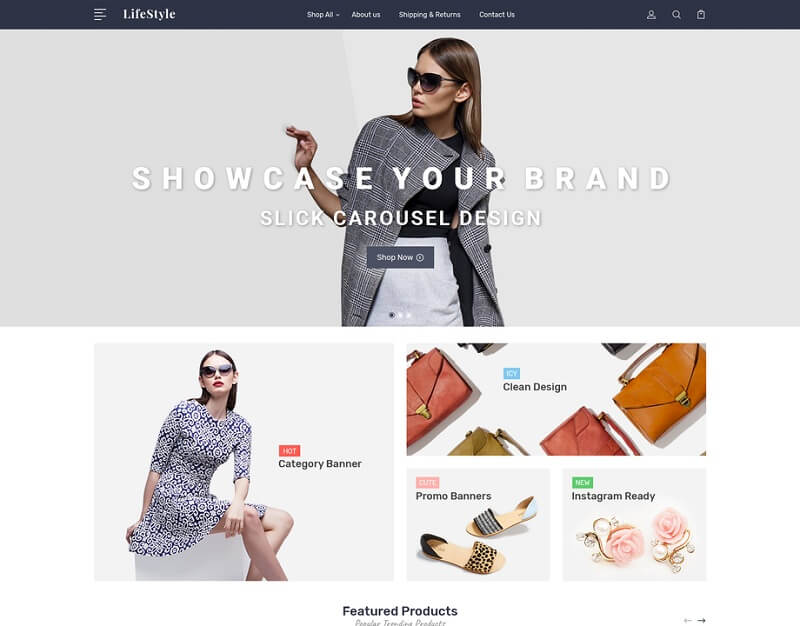 LifeStyle is one of the Free BigCommerce Themes, that is versatile and stylish. It is best suited to industries like fashion accessories, retail, clothing, and more.
This is perfect for the stores that want to showcase the brand and style. It comes with the features like advanced search filtering, product display view, Hover effects with CSS3, Google AMP, persistent cart, and many others.
This theme is fully responsive and gives an amazing surfing experience to visitors. You can customize the color, fonts, header & footer and manage the size of the blog images.
If you want a simple, engaging yet modern-looking website, this theme fits well.
4. Fortune Contrast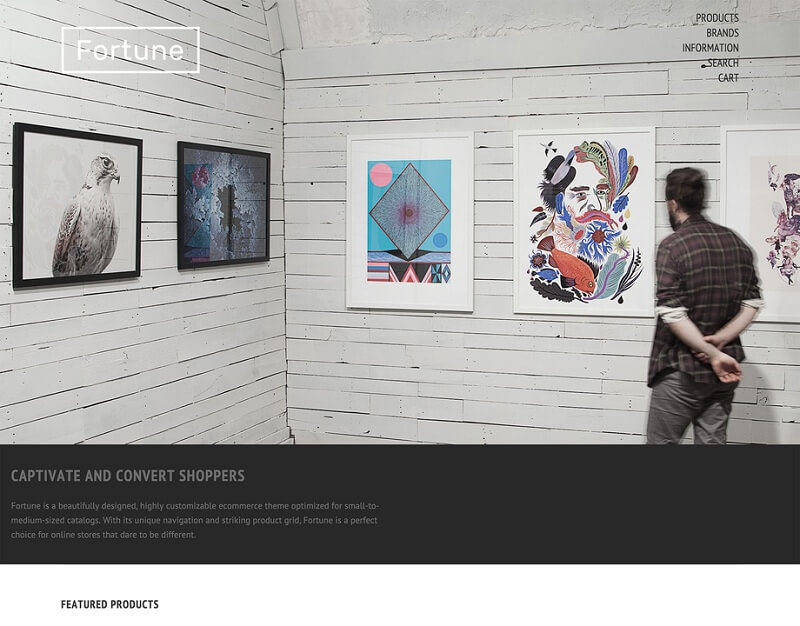 Fortune Contrast is a great theme suitable for any cutting-edge online store. This theme is very efficient to make you stand out with its hero area, which makes the visitors mesmerized.
It comes with features like sleek navigation, a unique product grid, a front-page slideshow, product filtering, a persistent cart, free theme upgrades, and more.
This multi-purpose theme is optimized for mobile, desktop and tablet assures that the website is viewable on all devices. It is ideal for small to medium-sized catalogs.
If you want a highly customized theme with unique navigation and product grid, Fortune contrast is a perfect one.
5. Cornerstone Light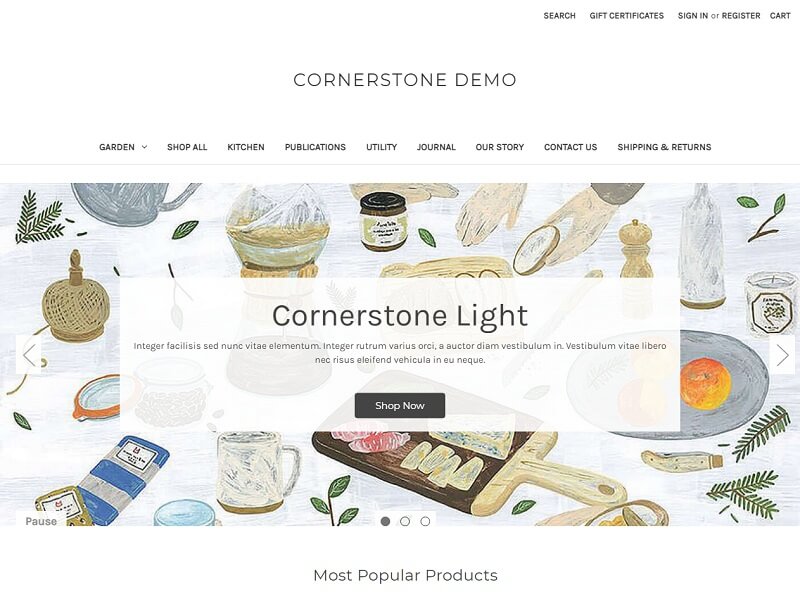 Cornerstone Light is one of the versatile free themes by BigCommerce. It is suitable for a wide range of businesses such as pet stores, book stores, fashion stores, and more.
This ready-to-use theme is fully responsive and has a built-in variety of features to sell more. It brings the features like logo, main navigation, home page carousel, social media icons, adding featured and top-selling products, product filtering, product image, video, and more.
This multi-purpose theme is optimized for sales and discounts and a large catalog. It is a clean and attractive theme that creates high-converting online stores.
If you want to express your brand with style, this theme is the perfect one!
6. Vault Natural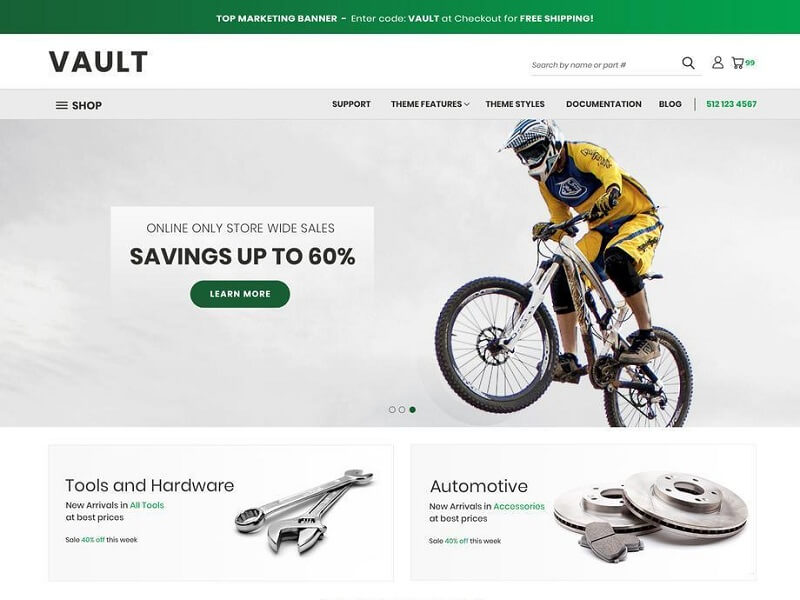 If you want free and quality themes, Bigcommerce provides you with a variety of themes. Vault Natural is one such theme. When you want to create a quick and hassle-free storefront, this theme is a perfect one. It provides you with value-added features and gives your website a modern and clean look.
Vault Natural comes with advanced store design capabilities. You can add text and images to your Homepage without any code. This theme gives better readability with a clean look, clear layout, and color highlights.
This theme also provides a timeless fonts option for your seasonal campaigns and allows you to change the color & look in no time. You can customize and change any element quickly.
Vault Natural comes with a built-in mega menu that easily handles both small and large catalogs. Further, Vault is a fully responsive theme and is optimized for sales & discounts, mobile, tablet, and desktop. Make a unique and clean design for your e-store with this versatile and multipurpose theme.
7. MODA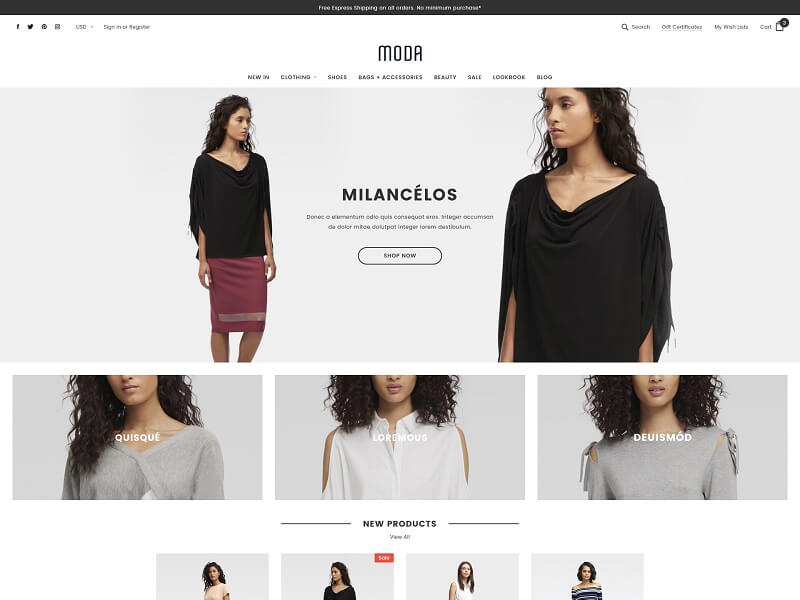 Do you want to create a cool and modern site for your fashion store? Big-commerce offers you a free and fresh-looking theme Moda that is ideal to showcase your style! It comes with attractive features like a style editor to create your own style. Moda also provides an add-on feature for a pop-up newsletter.
This versatile theme offers you a basic mega menu for easy navigation that makes it easy for your guests to go and check the products & catalogs they want. This theme includes a Drop-down shopping cart that allows for a quick view of the cart on any page.
You can create product labels and wish list icons. It provides extra space for promotions, texts, links, and store information. Therefore, it would be easy to put more valuable content regarding the products. Other valuable features include a custom contact page, Google maps, Frozen header, custom products tab.
If you are looking for an easily customizable and SEO-friendly theme, Moda is perfect for creating a fashion store!
8. Fortune Minimal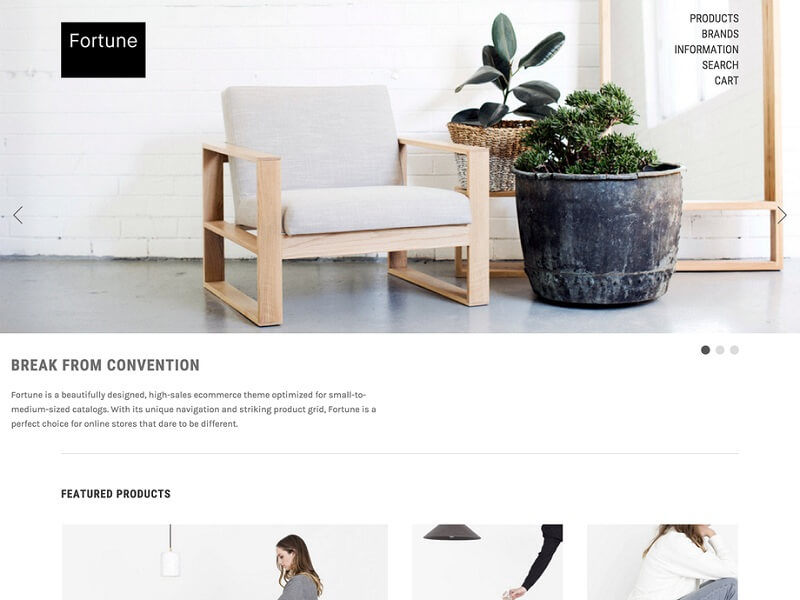 Are you looking for a stand-out theme? Fortune Minimal is one of the best and free big commerce themes. The theme is ideal for cutting-edge online stores. It comes with a hero area that captivates visitors to the site. You can use a Full Display along with a striking Product Grid. Fortune Minimal is suitable for all small to medium-sized catalogs.
With a unique navigation experience, this theme attracts and converts visitors. It is fully responsive and optimized for all devices like mobile, laptop, and tablet. It comes with the features like a Frontpage slideshow, complex search filtering, advanced quick view, product filtering, masonry design, product videos, customized check out, Google AMP, and more.
Fortune Minimal is also optimized for sales & discounts and home furnishing.
This theme is multi-purpose and is ideal for home furnishing stores. Showcase your products in a unique and attractive way with this beautifully designed minimal theme!
9. CityCenter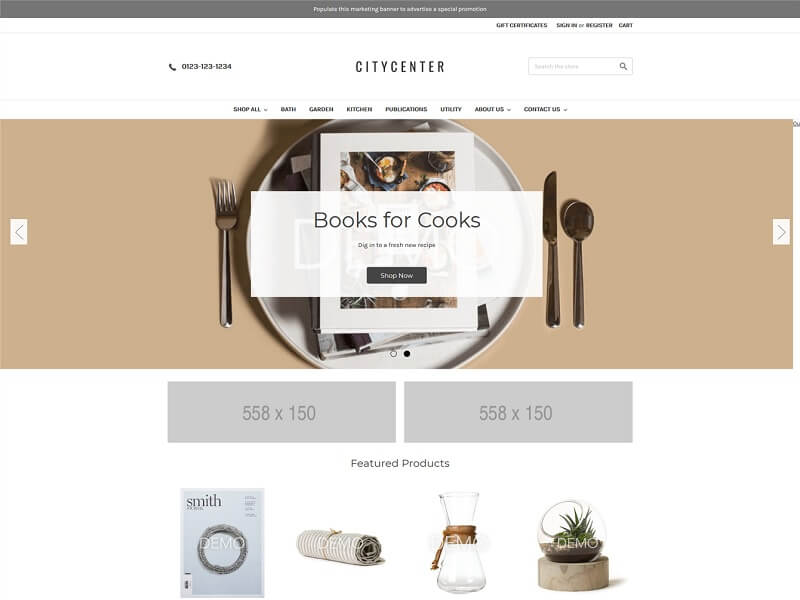 If you are looking for a minimal and stylish looking theme, this theme is preferable for you. This theme is an enhanced version of the cornerstone light theme.
This stencil theme is feature-centric and user-friendly. It has impressive design elements to improve customer experiences.
CityCenter comes with the features such as phone number, visible search bar, sitewide banner, Navigation menu open on hover, Footer in the Header area.
This theme comes with a category page in which it displays all the categories including subcategories. For your product display, the theme has a Product page. You can show the main image with its Pop-up functionality.
You can also find the description tab in a Full area. If you are looking for a free and elegant-looking theme, this is the perfect stencil theme for you.
10. Cornerstone Bold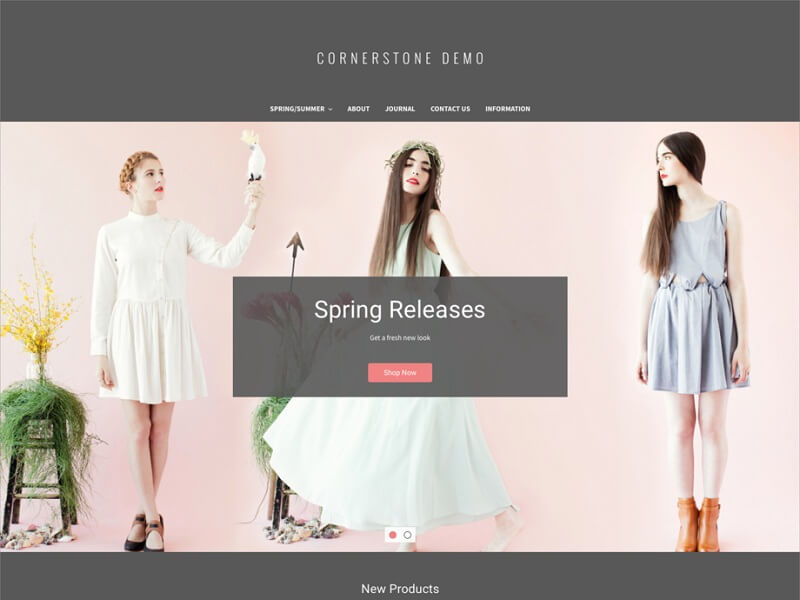 Cornerstone Bold is a free multipurpose theme. This is suitable for a wide range of businesses and brands. You can showcase your Brand by adding products and features to your site. It has ready-to-build features to create a clean and beautiful store.
This theme comes with efficient features such as homepage carousel, social media linking, faceted search, advanced quick view, Mega navigation customized checkout, switchable grid, and more.
CornerStone is fully responsive. It is optimized for sales & discounts, large catalogs, and all the devices like mobile, desktop, tablet. You can easily style your brand by using a theme editor.
Without using any code you can add fonts and colors and build a stylish e-store! If you want to choose a multi-purpose theme that shows your brand personality, this theme is suitable for you.
Conclusion
As BigCommerce is a leading website builder with a variety of sales tools, it helps to boost your business and manage your online store easily.
While there are hundreds of themes available on the BigCommerce platform, we have selected the popular and most flexible themes for you. In any business, the prime concern would surely be reaching out to the customers and providing a great user experience.
By choosing one of the Free BigCommerce Themes you can provide value and services in the simplest manner. Further, it will be easy for visitors to find what they are looking for. They stay engaged and come back to your site more often.
Select one for your online store and build the business with easy-to-manage and customizable themes.